Over $15 billion in stimulus funding is available to schools in Pennsylvania, Maryland, Delaware and New Jersey
...but it wont last forever.
Since the pandemic began, the federal government has made $15.7 billion in funding available to public and private Pre-K-12 schools, colleges, and universities in Pennsylvania, Maryland, Delaware and New Jersey to ensure a safe and healthy learning environment.
Schools like yours can use this funding to modernize HVAC and building systems, thereby improving indoor air quality (IAQ) and energy efficiency for years to come. An added benefit: The downstream cost savings from these efficiency improvements will free up funding for future projects.
But the funds won't last forever — they'll expire in 2023.*
What upgrades and investments qualify?
Over 90 percent of ESSER funding is available for a broad category of needs, under the discretion of the local funding agency. General ESSER funding can support immediate pandemic needs, such as masks, testing, sanitizers, and plexiglass barriers. It also provides aid to mental health services and students facing disadvantages such as homelessness and disabilities.
ESSER funding can also be put toward...
Improving Indoor Air Quality (IAQ) via Filtration, Ventilation, Purfication, and other Air Cleaning Systems
Inspection, Testing, Maintenance, Repair & Replacement of Aging Building Controls and HVAC Systems
Occupancy Temperature Scanning and/or Counting Technologies, Access Control, and Security Systems
Outdoor Learning Infrastructure, Sustainable Outdoor Learning Environments (SOLE) for Hands-on STEM
Energy Performance Contracting and Modernization Services that Increase Financial Flexibility for Upgrades
How do you access ESSER funding?
ESSER funding processes vary by state. The federal government is making ESSER funding available to states, who in turn will deliver funds to individual districts and schools. You should reach out to your state's education department for more information. You can find more details on allocation methodology here and state-level allocations here.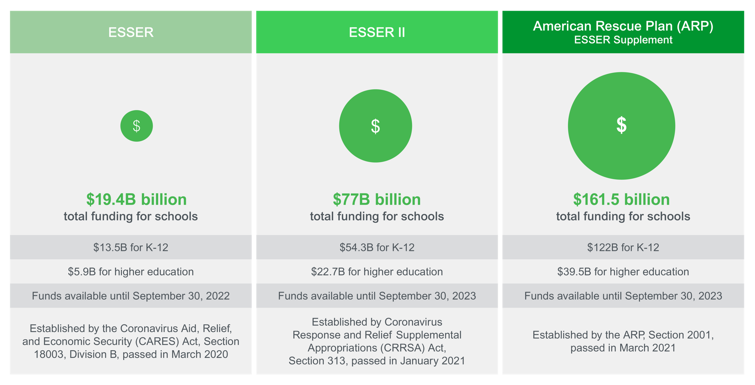 Explore ways Tri-M can help you comply with pandemic-era regulations and enhance safety for your students,
teachers and staff.
Upgrade Outdated Building Automation Controls
Add UVC Disinfection to Existing HVAC Systems
Update Security Systems Including Thermal Imaging
External Body Temperature Scanners for Access Control
Upgrade Access Control to Include "No-Touch"
Install Infrastructure Needed for these Upgrades and More
Tri-M is a certified EcoXpert by Schneider Electric.  This partnership allows us to provide top-of-class solutions for all of your facility automation, security and access controls.
Click here for a PDF version to download, print and share.
We are ready to help you assess your needs, design a solution, and get the project done, so you can focus on the most important thing - educating our future generations.  Contact Sales Support Engineer - Dan Rose to learn more.